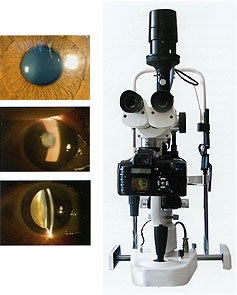 YZ5S Digital Slit Lamp •Characteristics •The digital camera is capable of 8 million pixels. •Slit Lamp YZ5S covers all the functions and characteristics of YZ5F1. •It has background illumination system. •Photos can be taken by the button on the joystick. Specifications: Microscope Type………………parallel included angle type Magnification………………five-step magnifications Eye piece………………12.5x Total Magnification and field of View(mm):6x(Φ33)、10x(Φ22.5)、16x(Φ14)、25x(Φ8.8)、40x(Φ5.5) Adjustable Range of Pupil Distance(mm)…………55~75 Adjustable Diopter………………-5D~+3D Slit Width(mm)………………0~9 adjustable Slit Height(mm)………………1~8 adjustable Slit Angle………………0~180° Slit Inclination……5°、10°、15°、20° Light Spot Diameter (mm):Φ9、Φ8、Φ5、Φ3、Φ2、Φ1、Φ0.2 Filter:heat absorption, grey, red free, cobalt blue Illumination Bulb:12V / 30W halogen bulb Voltage/frequency:AC220V±10% / 60Hz±1Hz. AC110V±10% / 50Hz±1Hz Power………………58VA Electrical Safety Standard:conform to Standard IEC 601-1.Class1Type B Whole Packing Volume………0.30m3 Carton Number………………2 Total Weight………………51kg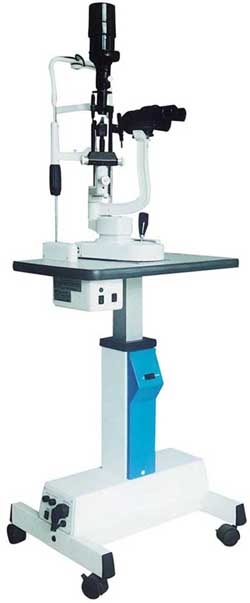 YZ-5F1 Slit Lamp This model is used for inspecting and diagnosing the anterior part of eyes and can be equipped with accessories such as camera, teaching tube, photograph system, applanation tonometer, and measurement eyepiece. Specifications: 1.Type………………parallel; 2.Eyepiece………………12.5x; 3.Total Magnification:6X; 10X; 16X; 25X; 40X; 4.Diameter of Visual Field:ø15mm; ø10mm; ø6mm; 5.Diopter Adjustment………+3D-5D; 6.Slit Height: 1mm~8mm continuously adjustabIe; 7.Slit Width: 0mm~9mm continuously adjustahle; 8.Aperture Diameter: ø9, ø8, ø5, ø3, ø2, ø0.2mm; 9.Slit Angle………………0°~180°; 10.Slit Inclination………………0°~20°; 11.Magnification………………2 / 3X; 12.Filter: heat ahsorption, grey, redfree, cobalt bIue Power Source. 13.Input Voltage:110V 220V±10 60/50Hz; 14.Input Power………………58VA; 15.Illumination Bulb: 12V30W haIogen bulb; 16.Fixation Bulb………………red LED;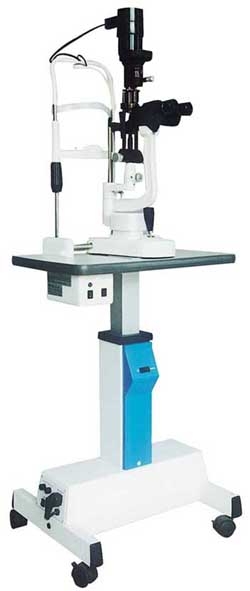 YZ-5F Slit Lamp Specifications: 1.Microscope Type:Converging Stereoscope; 2.Total Magnification: 10X: 16X (10X eyepiece), 16X: 25,6X (16X eye0iece) Illumination; 3.Slit Width: 0mm~9mm ontinuously adjustable; 4.Slit Height: 1mm~9mm continuously adjustable; 5.Aperture Diameter: 9mm, 8mm, 5mm, 3mm, 2mm, 1mm, 0.2mm; 6.Slit Angle………………0°~180°; 7.Slit Inclination………5°, 10°, 15°, 20°; 8.Filter: heat absorption, grey, redfree, cobalt blue; 9.Illumination Bulb……halogen bulb 12V30W; 10.Input Voltage: 110V /220V 50 / 60Hz; 11.Power……………… 58VA;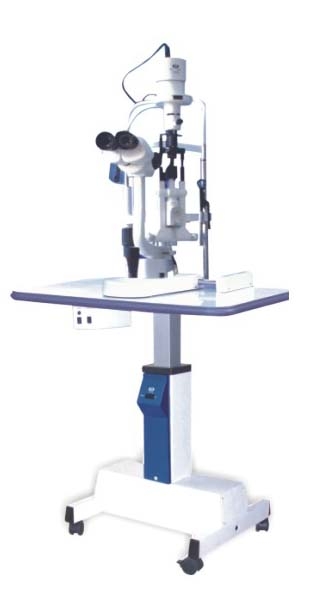 YZ-5G Slit Lamp(Big Light Spot Diameter) •Characteristics •This product covers all the functions and characteristics of YZ5F1 Slit Lamp Microscope. •The diameter of the light spot and length can reach 14mm. •Filter against UV.. •Specification Microscope Type:Parallel included angle type Magnification:Five-step magnifications Eye piece………………12.5x Total Magnification and Diameter of Visual Field(mm):6x(Φ33)、10x(Φ22.5)、16x(Φ14)、25x(Φ8.8)、40x(Φ5.5) Adjustable Range of Pupil Distance(mm):55~75 Adjustable Diopter…………-5D~+3D Slit Width(mm):0-14 adjustable Slit Height(mm):1~14 adjustable Slit Angle………………0~180° Slit Inclination:5°、10°、15°、20° Light Spot Diameter (mm):Φ14、Φ10、Φ5、Φ2、Φ1、Φ0.2 Filter:heat absorption, grey, red free, cobalt blue Illumination Bulb:12V / 30W halogen bulb Voltage/frequency:AC220V±10%/60Hz±1Hz. AC110V±10%/50Hz±1Hz Power………………58VA Electrical Safety Standard:Conform to Standard IEC 601-1.Class1Type B Whole Packing Volume:0.30m3 Carton Number………………2 Total Weight………………50kgs Accessories • Applanation Tonometer (R type and T type), Measuring Eyepiece, Beam Splitter, CCD Adaptor , CCD Camera, Teaching Tube, etc.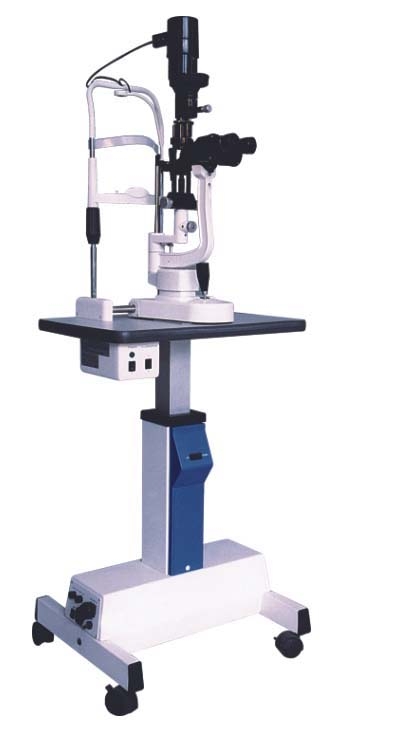 YZ-5J Slit Lamp Specifications: Type:Cross-angle stereovision; Eyepiece………………10x; Total Magnification:10x(ø18mm),16x(ø14.5mm), (Diameter of Visual Fidura light) Diopter Adjustment……………±6D; Slit Height:mm~8mm continuously adjustable; Slit Width:0mm~9mm continuously adjustable(at 9mm,slit becom a circle) Light Spot; Diameter:ø9,ø8,ø5,ø3,ø2,ø1,ø0.2(mm); Slit Angle:0º~180ºwith horizontal scanning capability; Slit Inclination:5º,10º,15º,20º; Filter:heat absorption,13%ND,red-free,and bule; Input Voltage:110V/220V 60/50HZ; Input Power………………58VA; Illumination Bulb:12V 30W halogen bulb; Fixation Bulb……………… (red)LED;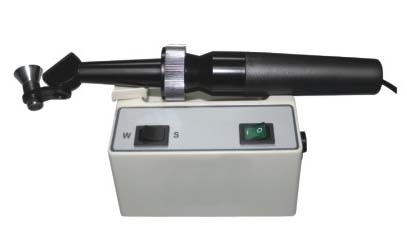 YZ-2 Handle Slit Lamp Specifications Illumination lamp :6V/5W halogen tungsten bulb ; Power Input volt…………220v±10%v; Input frequency……………50Hz±1Hz; Input Power……………… 6VA; Fuse specification………51S-0063H; Electrical Equipment Safety Standard : GB9706.1-1995 Class two Type B.